Avon, IL / Bushnell, IL / Byron, IL / Carthage, IL / Creve Coeur, IL / Dallas City, IL / Hinckley, IL / Peru, IL


Our

experience

allows us to grow


Avon, IL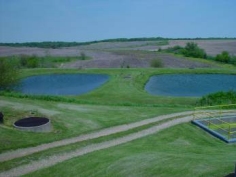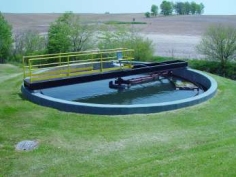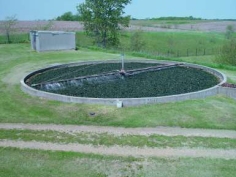 The Avon Wastewater treatment facility is an Imhoff trickling filter plant with final clarifier along with a two cell polishing pond. The Water treatment facility contains 3 shallow wells incorporating iron removal filters. The water is transferred through 2 high-service pumps transferring the water from a 20,000 gallon ground storage unit to both a 100,000 and a 50,000 gallon elevated storage tank system.


Bushnell, IL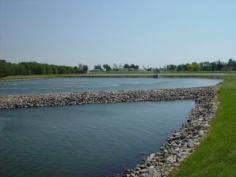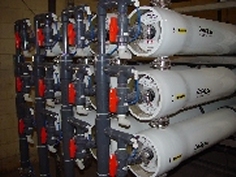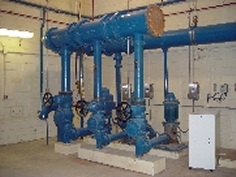 The Bushnell Wastewater treatment facility is a .5MGD Facility. The Wastewater Facility is a dual lagoon which contains a two-cell aerated lagoon with a rock filter. The West Lagoon contains a Bar Rack along with a 3-Pump Dry Well Lift Station. The Water treatment facility contains 3 deep wells the run approximately 1500ft. each. The water is treated using a G.E. Osmonics Reverse Osmosis process, then passes over an aerator to remove hydrogen sulfide gas. The water flows from the aerator to a 200,000 gallon ground storage tank and is then pumped to a new elevated storage tower using three high service pumps. Currently our 300,000 gallon elevated storage tower serves the needs of Bushnell's population.

Byron, IL


Byron's wastewater treatment plant is located on Byron's southeast side and has been in operation for nearly 70 years. Effluent is discharged to the Rock River adjacent to the plant and permitted through the Illinois Environmental Protection Agency NPDES discharge permit.  The plant utilizes much of the original infrastructure along with the addition of new tanks and equipment constructed by the City to increase redundancy and capacity.

Creve Couer, IL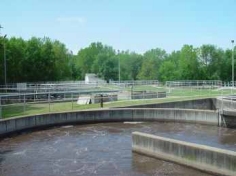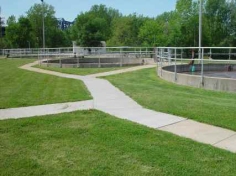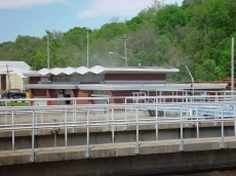 The Creve Coeur wastewater treatment facility is a 1.55 MGD Facility. The Wastewater Facility is an extended-air, activated sludge process. The facility contains a 1.5 meter Komeline-Sanderson belt filter press unit. With 2 aerobic digesters, the finished product is then applied to the agricultural fields in the area.

Carthage, IL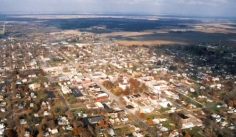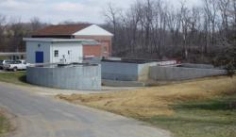 The Carthage water treatment facility is a .250 MGD Water Treatment Facility. The Wastewater Facility is a primary aerated lagoon. It has a secondary lagoon for retention.


Dallas City, IL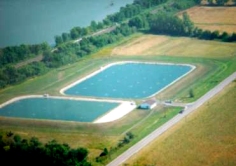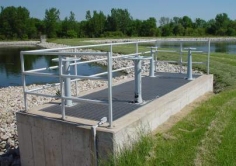 The Dallas City Wastewater treatment facility is a .5MGD Facility. The Wastewater Facility is a 2 stage aerated dual lagoon. With rock filtration the finished product is then discharged into the Mississippi River.


Hinckley, IL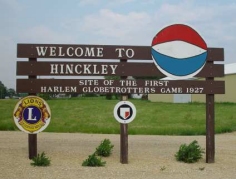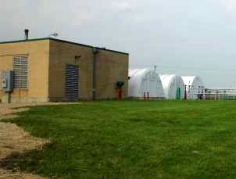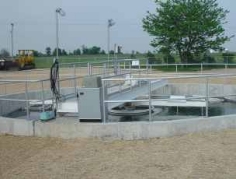 Hinckley's Water Treatment Plant has the capability of producing over 0.8 MGD of softened water through an Ion Exchange System that is designed to remove Radium from groundwater.  Water is stored in a 300,000 gallon elevated storage tank.
The Wastewater Treatment Plant was expanded in 2014 to increase capacity from 0.2 to 0.5 MGD.  The expansion replaced an outdated fixed film RBC biological process with a computer-controlled Biological Nutrient Removal activated sludge system designed by Aero-Mod.  The expansion also includes a belt filter press to dewater biosolids, and an ultraviolet light disinfection system.  The expansion project has won 2 awards from the EPA in  2015.



Peru, IL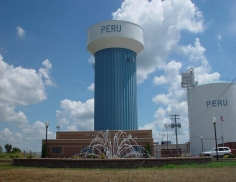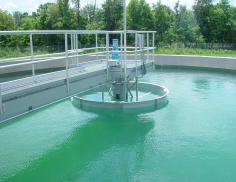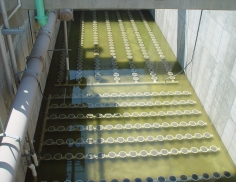 The Peru Wastewater facility currently receives residential, commercial, and industrial wastes. The facilities' processes include bar screening, grit removal, secondary treatment, and chlorination. The secondary treatment is provided by two 1.5 MGD Walker Process contact-stabilization, activated sludge units. This activated sludge process converts dissolved organic materials which are consumed by micro-organisms into cell mass. Excess cell mass (sludge) must be removed periodically. The sludge removed from the secondary treatment units is treated by a process called aerobic digestion. When the sludge is stabilized by this process, it is then ready for ultimate disposal.
The City of Peru currently maintains three aerobic sludge digestion units. Two of these units are provided with the Walker secondary process units and hold 174,285 gallons each. A third digester is also located on site and consists of a converted, circa 1939, anaerobic digester. The cover was removed from this unit, and a "sparjar" aerator installed in 1969. This digester's capacity totals 337,480 gallons. The Peru facility therefore is capable of treating 686,050 gallons of aerobic sludge at once. The two smaller digester attached to the Walker secondary units are utilized in the daily wasting of sludge. The frequent air shutdown, settling, and decanting associated with the wasting procedure occurs in these units.